Competition is fierce. Getting your commercial remodeling bid to stand out is difficult and competing on price alone is impossible. Trim-Tex challenges contractors to offer their next commercial remodeling client a bid they cannot walk away from. Use your interior finishing knowledge to maximize the space, create bold designs and utilize long-lasting products. Of course, these extra details take more time, but as we like to say at Trim-Tex - stay another day, make more pay. Read on to learn about the top four ways to maximize your next commercial remodeling job.
 1. INTERIOR ARCHITECTURE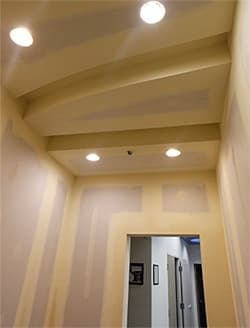 Create a lasting impression in the space by adding unique and popular architectural details. Transform ceilings with drywall art. Built-in cabinets or shelves add visual interest to an otherwise plain wall. A themed room livens up a boring office. Find unexpected ways to incorporate the company's logo in the remodel. Best of all, clients are willing to pay extra for interior architectural details that make their building stand out from the rest. 


2. FUNCTIONALITY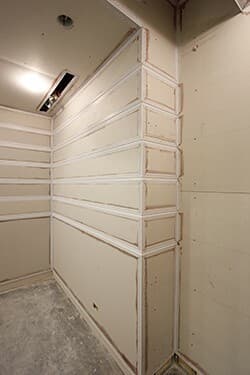 Test the limits of the space by creating additions that maximize every inch of the room and increase productivity. Often, outdated workspaces lack function. Challenge the status quo by redesigning the space - take down office walls to create collaborative work areas or restructure a conference room to make it adaptable to the needs of a tech-savvy workplace. 
Selecting the right product for the job also increases function and efficiency. During a remodel is also an ideal time to address expansion concerns. Install Trim-Tex 093V Expansion or Hideaway Expansion to allow for controlled movement that eliminates drywall cracking.  Flush baseboards simplify cleaning and built-in shelves don't just add interior architectural detail, but are functional without taking up floor space. Business owners are happy to pay more to ensure long-term productivity.
3. PRODUCT CHOICE
Trim-Tex manufactures their products from a proprietary blend of rigid vinyl material. Unlike competing products in the industry, Trim-Tex products never dent or rust, making them ideal for both business owners and contractors.

Reduce building maintenance costs for owners by using high impact, rust proof Trim-Tex products. Trim-Tex products can withstand corner impacts and dings common in busy commercial spaces. Once the contractor installs the Trim-Tex product, the client never has to worry about it again – a definite advantage for busy business owners. 

Trim-Tex products are also proven time and money savers for the contractors. Without any denting or rusting you can efficiently complete the job. Jobsite waste is reduced since Trim-Tex vinyl never dents or kinks, which increases profit margins. You no longer need to throw away damaged product. And once you install the product, you can be confident you won't be receiving callbacks because of blistered paper or cracks.
4. CUSTOMER SERVICE
Be the contractor the client wants to work with. By doing good work and offering popular features and upgrades you can transform one-time customers into life-long clients. Since word of mouth is a powerful marketing tool, skilled workmanship and great customer service helps your business too. In addition, contractors with drywall upgrade skills add variety to their workday, increasing job satisfaction.

Over the next four months, the Commercial Remodeling series will offer practical remodeling tips and demonstrate real-world applications of these four remodeling guidelines. Be on the lookout for next month's article on the Trim-Tex cafeteria remodel. 
read the rest of the commercial remodeling series
Creating a Fun and Practical Employee Cafeteria
Unexpected Flair in the Workplace