Welcome to the last article in the Commercial Remodeling series! The past four articles in the series looked at a variety of room renovation techniques that can be used in the commercial remodeling setting. This final article in the series discusses smaller remodeling changes that can be applied in a wide variety of commerical settings. Don't let their small size fool you, these upgrades make a big difference!

trim-free doors
Create an updated and minimalistic look by forgoing door trim. Instead of traditional trim, install Z Shadow Bead. It creates a clean, modern finish that doesn't cost you any extra. 
reveal wall
Throughout the Commerical Remodeling Series, we've seen how Reveals add visual interest in commerical spaces. Another idea for using Reveal Bead is to create an
interesting wall design. To begin creating a Reveal wall, use chalk to layout the design. Remember, measure twice cut once! After the design is sketched out on the wall, each piece of drywall must be cut to fit the design. Once the drywall pieces are adhered to the wall, add the Reveal Beads. Creating Reveal Bead transitions can be tricky, but check out our helpful tip for an easy way to create a Reveal Bead intersection.
irregular shaped windows 
Interior windows bring light into window-less offices and add visual interest to otherwise bare walls. Even though an irregular shaped window is a small touch, it goes a long way to making the space feel upgraded and custom. Windows can be made into any size and shape. When using vinyl bead you aren't constrained to only straight edges. Vinyl Archway bead makes it just as fast to finish a curved windows as it does to finish a straight edge. And no time wasted snipping bead!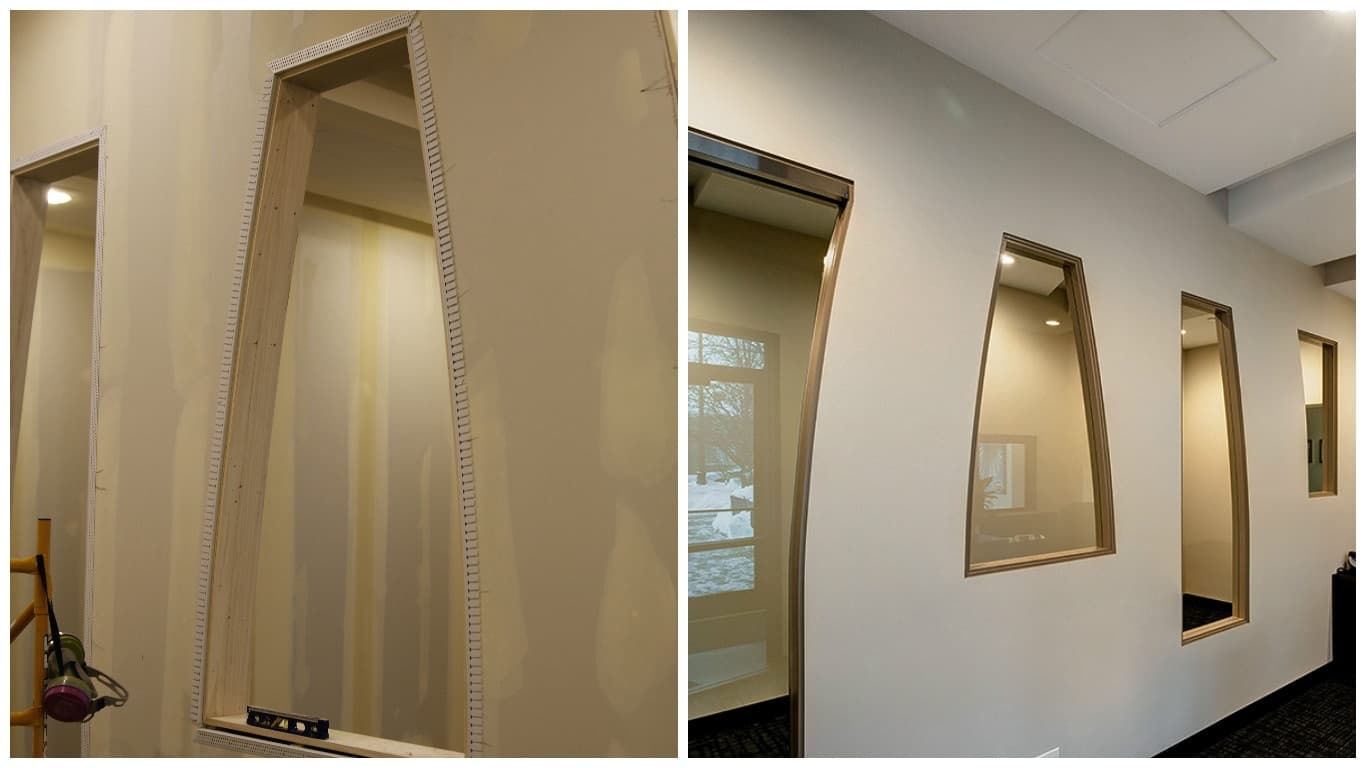 ceiling beams
Ceiling beams are design elements that can tie different office spaces together. At Trim-Tex, ceiling beams were used down the hallway and continue into the customer service office to create a cohesive look. Create ceiling beams by using drywall and reveals. Refer to the Functional Office Spaces article for an in-depth look at creating ceiling beams.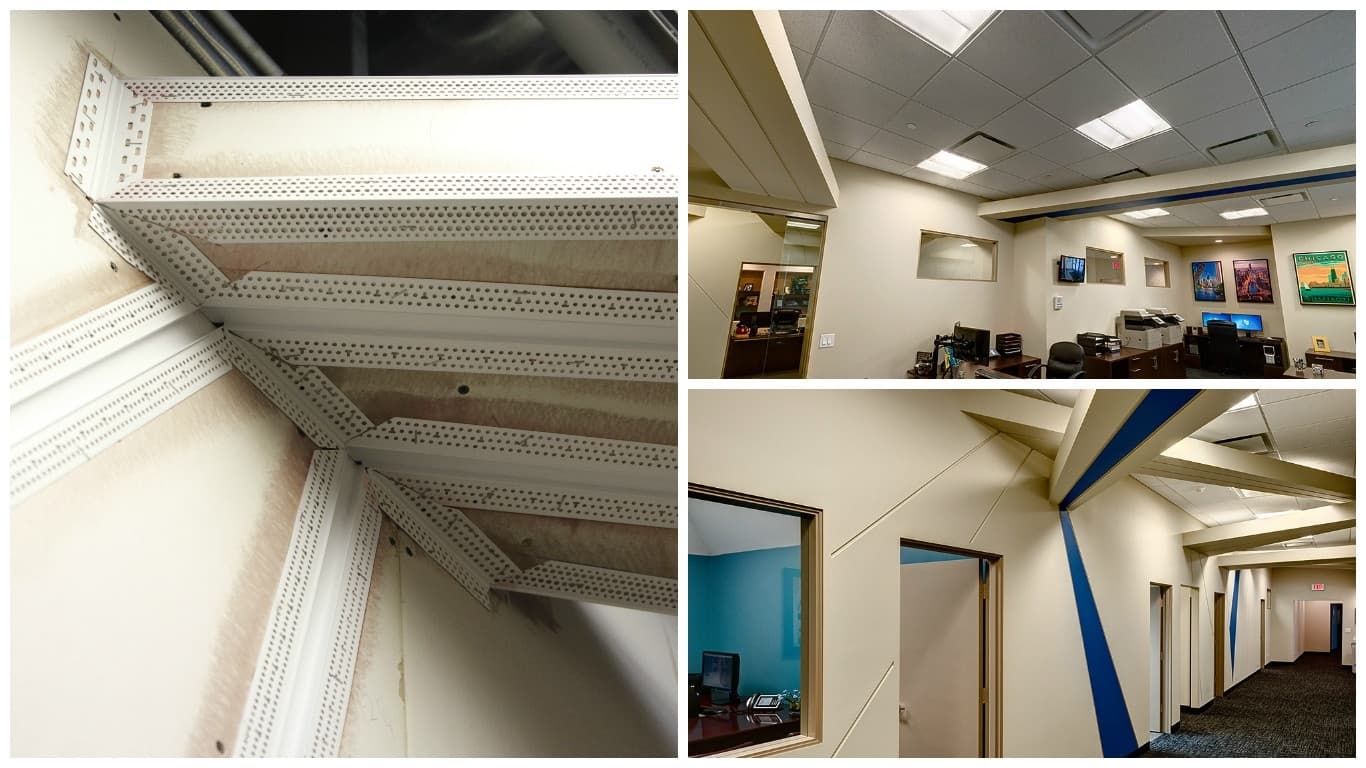 bumper bead
Corner protection is essential in high traffic areas to protect corners from impacts and keep rooms looking nice. At Trim-Tex, the Bumper Bead System was installed in the busiest doorways to protect corners. The Bumper Bead System can be installed to offer either floor to ceiling corner protection or it can continue only partially up the wall. Here, the Bumper Bead System was installed partially up the wall and then transitioned into Jumbo Corner Bead to create a flush finish. The Bumper Bead System's flush finish fits seamlessly into the clean, modern look of most commercial spaces while also providing increased impact protection.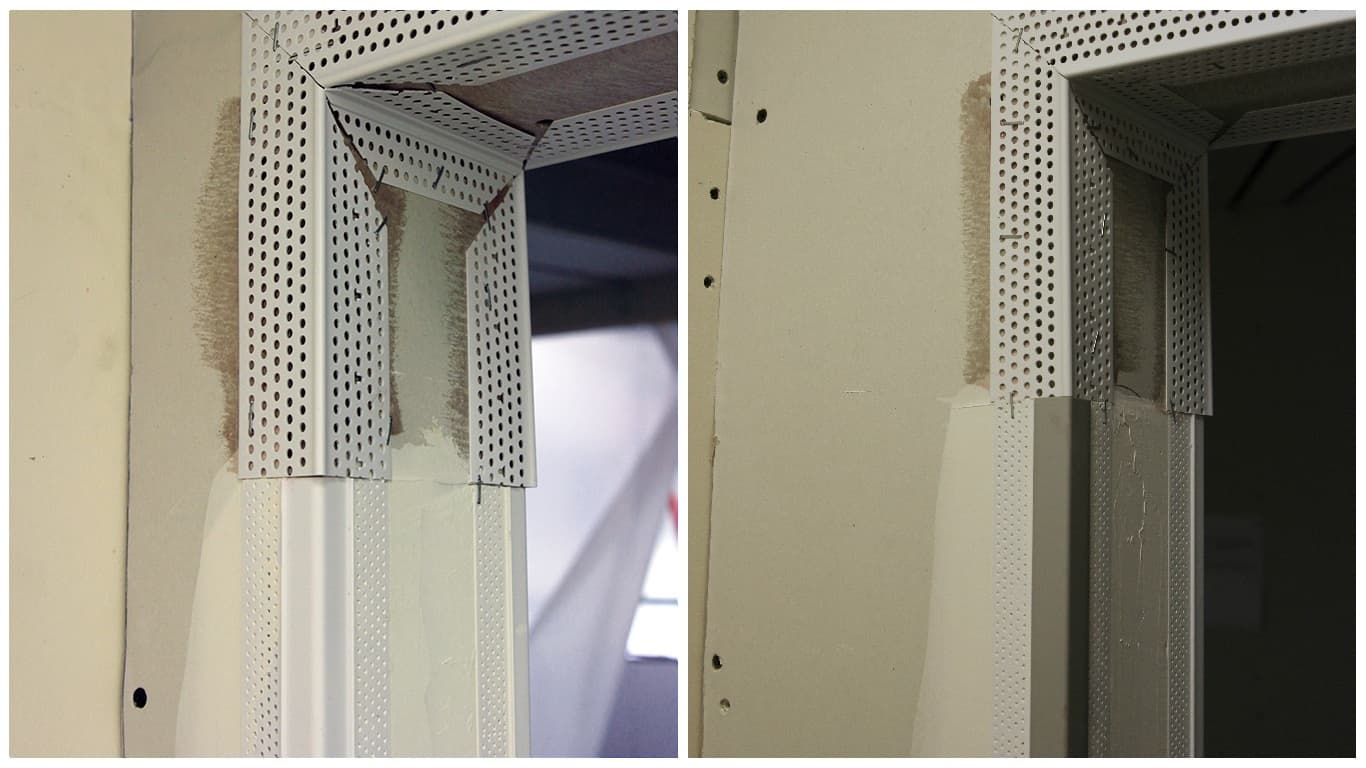 Small details add up to create a polished commercial space. You can add them all or just a few and personalize them to fit the space and the client. It doesn't take a lot of extra time or money to create these looks, but the upgrades transform the space into more than just another office building.
Read the Rest of the Commercial Remodeling Series
Commercial Remodeling: Four Ways to Maximize Your Remodeling Job

Commercial Remodeling: Creating a Fun and Practical Employee Cafeteria

Commercial Remodeling: Functional Office Spaces