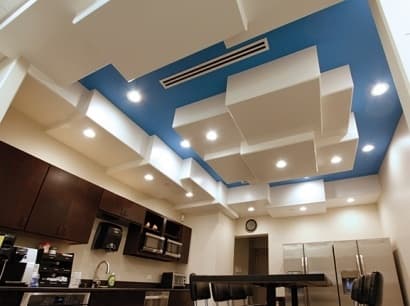 A work cafeteria or break room is more than just a space for employees to eat. It provides workers a chance to take a break, socialize and get reinvigorated for work. With this in mind, Trim-Tex made their employee cafeteria space fun, comfortable and functional.
In this second installment of the Trim-Tex Commercial Remodeling series, we will go step by step through the Trim-Tex cafeteria remodel beginning with the ceiling and working towards the floor. At the end of the article, you can find a breakdown of the Trim-Tex products used in this room remodel.

to create the ceiling
1. Create the look of clouds by framing out the ceiling with steel studs.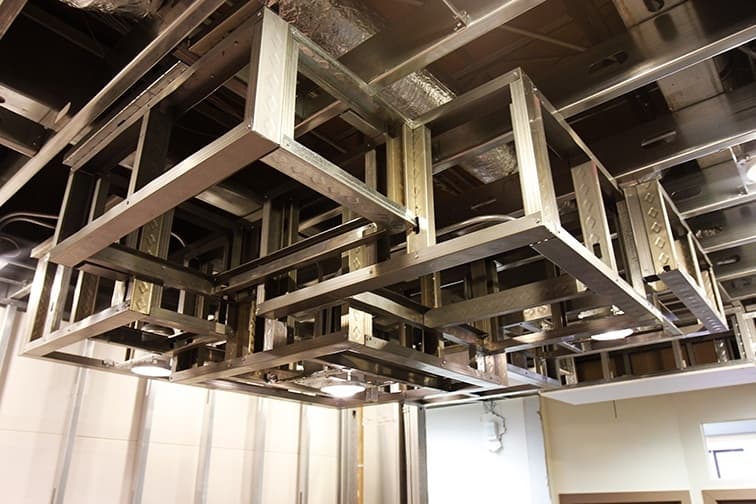 2. Install the drywall on the ceiling, paying close attention to the setback that will be required for each bead. 

3. With the drywall installed, cut and dry fit the Trim-Tex beads.

Trim-Tex beads are designed to work together. (Shown Above) A standard 90 degree corner bead transitions into 350 Chamfer bead.

4. Install Trim-Tex corner beads with 847 Spray Adhesive and 1⁄2 " divergent staples.

Remember, never nail or screw Trim-Tex corner beads, unless you are working with Trim-Tex Mud Set Beads, which are installed with mud compound.
create flush baseboard

1. Stop the drywall short to accommodate the height of your baseboard or tile.
2. Use L Bead to finish the bottom edge of the drywall.

3. Install a backing product between studs to support the baseboard.

4. Use a 350 Chamfer Bead with a Base Adapter to transition a chamfered edge to a 90 degree square corner.
one-of-a-kind interior
The completed space has everything an employee cafeteria needs and more. 
The cloud ceiling detail adds fun, one-of-a-kind interior architecture to the space. Creating beautiful drywall art transforms a bland office into a visually interesting room. In addition, drywall is one of the most affordable building materials, making drywall art a low-cost, but big-impact upgrade.

And although it might not be as visible as the ceiling detail, the rigid vinyl corner bead used in this project will stand up to the intense wear and tear of a busy office space. Unlike metal, rigid vinyl is dent proof and can withstand high impacts.

Interested to see what products were used in this room remodel? Read on for a product breakdown.
trim-tex beads used in the ceiling installation:
Rigid Low Profile Corner Bead on all vertical outside corners
350 Chamfer Bead on all horizontal outside corners
90 Degree Inside Corner Bead finished the inside corners
trim-tex products used to create the flush baseboards
L Bead
350 Chamfer Bead with a Base Adapter
Remember to stay tuned for the next installment in the Commercial Remodeling series where we will looking at ways to add functionality to office spaces. Sign up for Trim-Tex's newsletter and follow us on Facebook to make sure you are the first to know about the release of the next article in the series.
read the rest of the commercial remodeling series
Commercial Remodeling: Four Ways to Maximize Your Remodeling Job
Commercial Remodeling: Functional Office Spaces
Commercial Remodeling: Unexpected Flair in the Workplace