designing with curved walls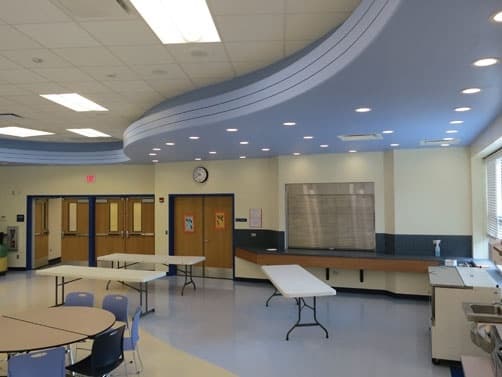 The benefits of vinyl reveals are unmatched for finishing curved walls. Traditional metal reveals are ideal for clean straight lines on long runs of drywall. Unfortunately, finishing curved walls with traditional metal reveals requires custom ordering and increased lead time for material -- two factors some projects can't manage. However, the material properties of vinyl allow Architectural Reveal Bead to flex and form to curved surfaces right out of the box.
With a tight school renovation budget and timeline, the Oak Grove Elementary cafeteria, designed by RuckPate Architects/CS2 Designs, utilized Architectural Reveals to build curving soffits with a racing stripe reveal design. 
built-in expansion protection
Along with the benefit of being able to finish curved interior details, Trim-Tex Architectural Reveals offer expansion protection. Vinyl reveals offer up to 1/8" of expansion protection, which is important to reduce drywall cracking in long runs of drywall.
Trim-Tex Architectural Reveals were used to finish the rotunda at the new Northwestern Mutual Tower in Milwaukee, WI., design by Kendall/Heaton Associates, Pickard Chilton, and Valerio Dewalt Train Associates. Trim-Tex reveals were ideal for adding detail to the curved walls as well as offering needed expansion protection due to the large scale of the ceiling feature.
responsible material choices
Along with cost savings, vinyl reveals offer additional benefits over metal reveals. Unlike metal alternatives, Architectural Reveal Beads won't dent, kink or rust. These benefits save on job site damage costs, as well as future maintenance of the building for years to come.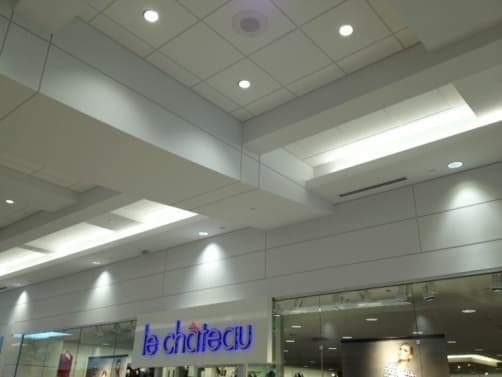 Architectural Reveal Beads are also a responsible building material choice. All Trim-Tex products are manufactured from at least 70% recycled material.

Sherwood Park Mall, located in Alberta Canada, finished by T Kerr Interior Systems, opted for Architectural Series Reveals and Intersections. The vinyl reveals create straight clean shadow lines over long runs. Additionally, Trim-Tex supplied custom built intersections to speed up project completion by reducing the need for making job site miter cuts. Speed was important in this project as the mall continued to stay in operation during renovations.
trim-tex products