While vinyl beads are ideal for transforming interiors, they can pose fire-rating safety challenges. In commercial structures requiring a 1 or 2 hour fire-rating, the drywall must maintain a continuous barrier.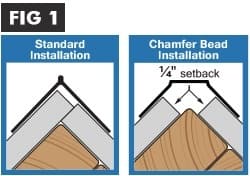 With traditional 90 degree corner beads , when two pieces of drywall meet at a corner, they overlap to create the continuous barrier. The installation requirements of some decorative beads, such as
Chamfer Bead
, require a drywall setback that breaks the continuous barrier (Fig 1). When a decorative corner bead fails to provide the continuous barrier required to maintain fire-rating, two layers of drywall must be installed.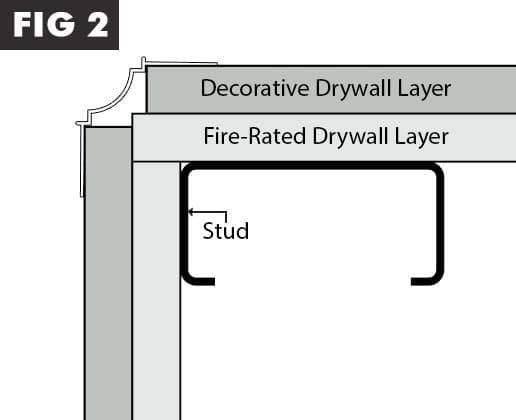 The first layer will be at 90 degrees, and the second layer will then be installed with the appropriate setback for the decorative bead (Fig 2). The easiest way to check for fire-rating is to remember that if the thinnest portion of the drywall installation does not meet the fire-rating, the whole wall does not meet the fire rating. The two-layer approach is critical for maintaining a fire-rated wall when installing decorative corner beads. However, It's a common misconception to think that when adding a second layer of drywall that the entire room must be surfaced with a second sheet. There are many ways to add interior drywall upgrades without the significant increased cost of materials and labor for two layers of drywall.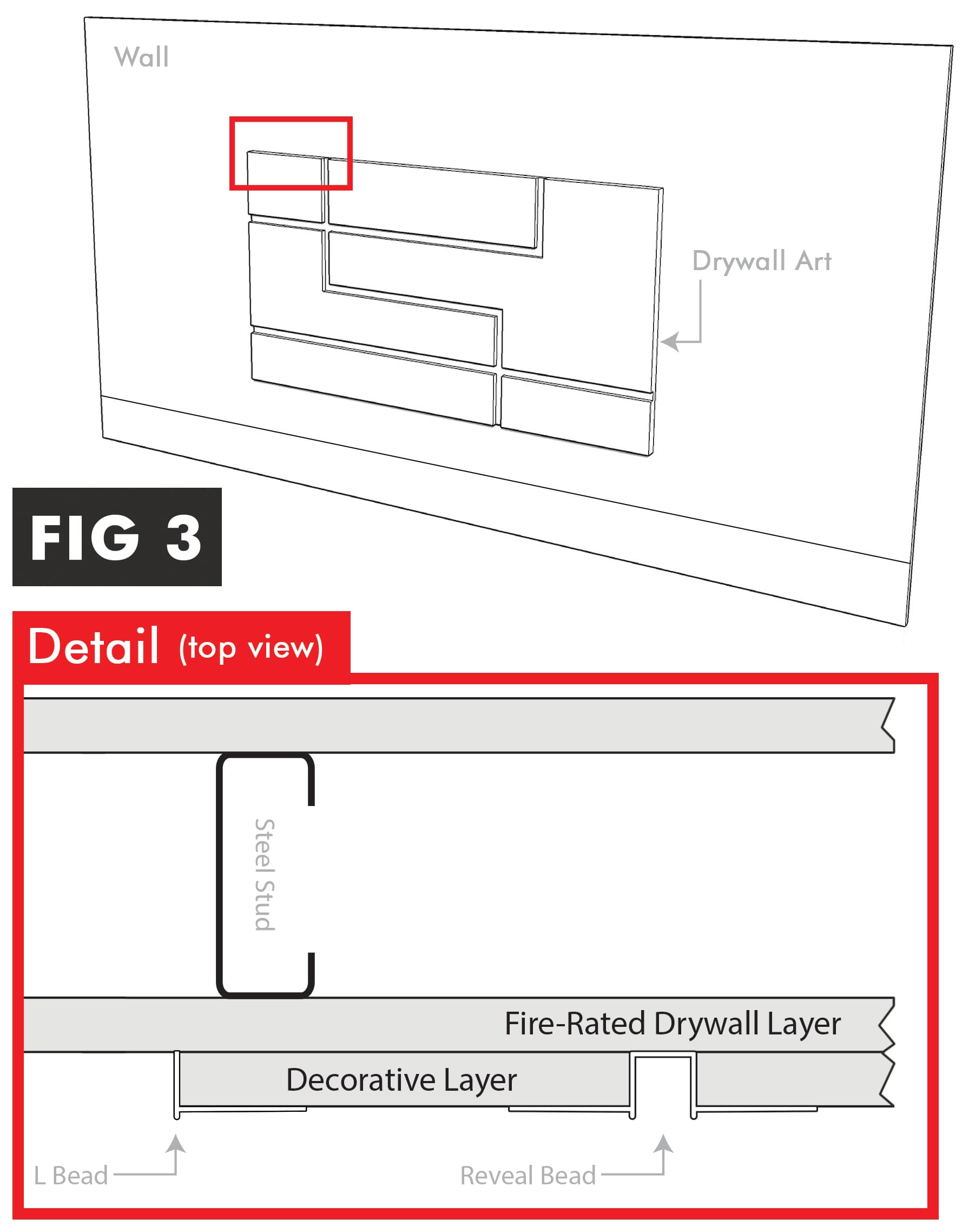 Drywall art
is an easy way to add dramatic visual interest. Drywall art is the process of layering drywall shapes upon each other and applying them to the ceiling or wall.When creating drywall art fire-rating requirements should be examined carefully. This does not mean you have to build two layers of drywall over the entire surface of a wall. As shown in Fig 3 you can build a drywall art design over only a section of your wall and attach it on top of your continuous barrier layer of drywall. Use an
L Bead
to finish the rough edges of your drywall art design.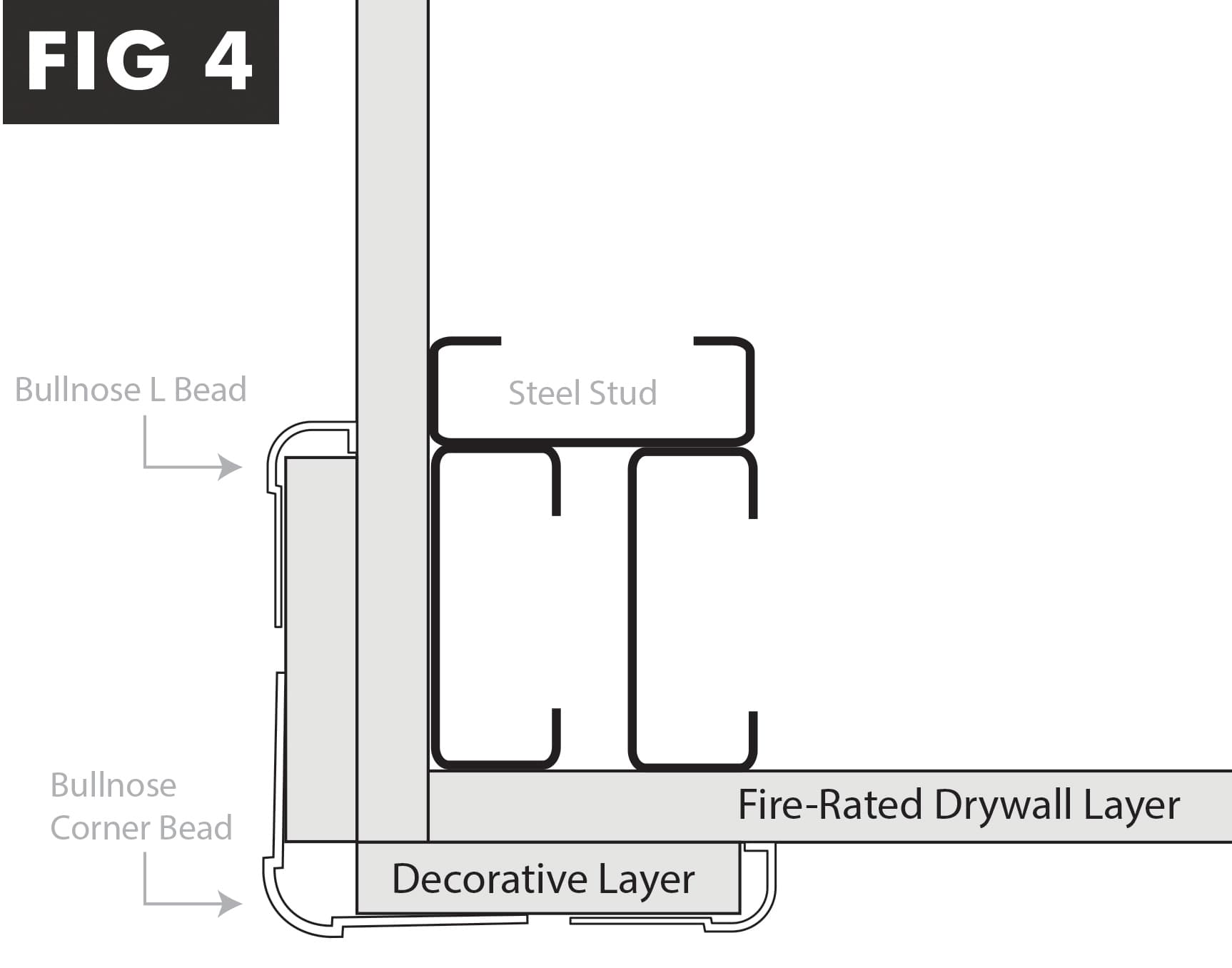 Another example of a cost effective decorative drywall upgrade is a subtle column (Fig 4). Columns can be added to a corner to increase visual interest of an otherwise average outside corner. Again this detail does not require you to add a second layer of drywall to the entire surface. To create this detail cut two strips of equal size to run the height of the wall. Create the proper offset for the decorative bead, install the drywall strips, and finish the outside edges with a decorative L Bead (
Bullnose L Bead
shown here in Fig 4).
A common detail in hotels is the return wall to the entrance of individual rooms. This detail is an optimal space to add visual interest, such as a
Chamfer Bead
, without adding excessive amounts of labor or material costs. As show in Fig 5 two layers of drywall are only needed on the return wall to maintain the continuous fire-rated layer.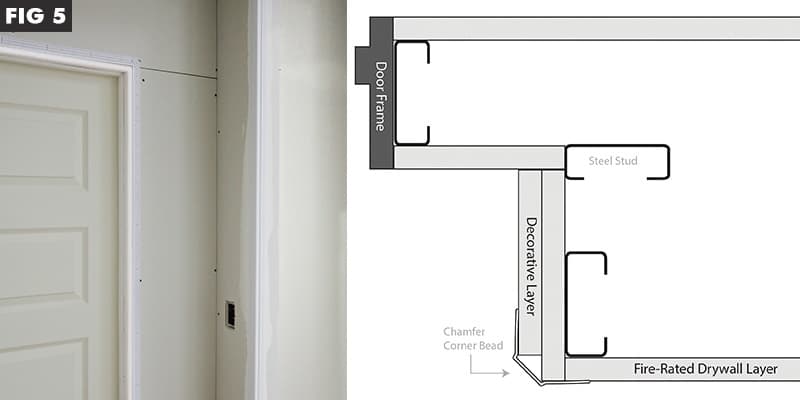 Creative solutions like these allow the architect or contractor to embellish the space without excess time and labor. Always be sure to consult the Gypsum Association Fire Resistance Design Manual for typical 1-2 hour fire-rating design specifications for your specific applications.
Learn how to request a sample of any products you read about in this article
here
.