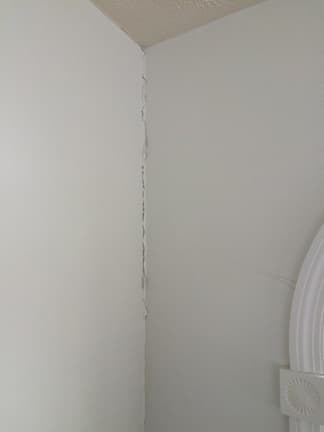 by: myron ferguson
I run a relatively small drywall business but I use a disproportionately large amount of Trim-Tex Magic Corner. Trim-Tex Magic Corner is an expansion bead designed for inside corners that eliminates cracks that commonly occur on angled walls and vaulted ceilings. Trim-Tex Magic Corner is also useful in 90-degree inside corners where expansion and contraction problems are a concern.
Recently, I was doing some work for a customer and she asked me to look at some inside corners in her sunroom addition. I did the drywall work a few years ago, but did not remember any details of the job. When I looked up, I saw that I used Trim-Tex Magic Corner along the center of the cathedral-it still looked great.
The inside corner the customer was having problems with was a 90 degree inside corenr on the wall that intersects with the original structure-it looked pretty bad. Wrinkled and loose material about 3/8" wide ran along the inside corner of the wall. To make the repair, I went out to my truck and cut a piece of Trim-Tex Magic Corner to fit the length of the damaged corner. After going back inside, I put some drops down and took out my taping knife to start removing the loose material. To my surprise the loose material was just primer and paint! Behind the paint was the rubber flexible center of Trim-Tex Magic Corner. All I had to do was remove the loose paint and tell the customer it was repaired.
The rubber center of Trim-Tex Magic Corner absorbed the movement. Unfortunately, the painter applied a thick layer of paint that could not handle the movement, causing the inside corner to appear cracked. 
In my years if work, I have found that although an addition has a foundation and is structurally attached to the existing building, there is a high probability of independent movement, especially in very cold temperatures. Installing Trim-Tex Magic Corner in all corners of a common wall is a good idea to prevent cracks or loose tape. I have also found that there is more movement in gable end walls that in other exterior walls. For these reasons, I typically install Trim-Tex Magic Corner in the inside corners on gable end walls. Magic Corner is an essential product to help prevent callbacks. 
Myron Ferguson is a drywall contractor from Middle Grove, NY.