Basements are often the last area in a home to get finished and typically get completed quickly and cheaply. Compared to other spaces in a home, not much thought about basement upgrades or design takes place. Drywall art is the perfect way to upsell a basement remodel. Adding interesting drywall features can affordably transform a basement and make it feel inviting and custom.

However, when adding drywall to a basement, it is important to take a moment to consider the needs and issues present in many basements - primarily moisture issues. Basements tend to be damp, lack natural light and are the first area to get wet if flooding occurs.

how to prevent moisture damage
There are a variety of steps that can be taken to combat moisture concerns. First of all, drywall should not be attached directly to basement walls. Framing should be built and then drywall attached to the framing. This extra step can help inhibit mold issues. In addition, drywall should not be extended all the way to the floor. Instead, use cement board on the lower portion of the wall, about 10"-12" from the floor. Also, be sure to cover the lower part of the wall and floor with a moisture resistant product, like tile. When moisture is a serious concern, a drain system must be installed. In new home construction, French Drains or grate drains are commonly installed to direct water into a sump pump or away from the home.
Another step to prevent moisture related issues includes using vinyl corner bead in a basement. Vinyl will not rust when wet, which makes it the ideal material for basements and bathrooms. On the other hand, metal corner bead can rust at even the slightest hint of moisture. Once rusted it can discolor drywall and result in costly repairs. 
WAINSCOTING
Integrating wainscoting into a basement space is an easy way to make the area feel luxurious. Wainscoting works well on long runs of wall that are often found in basements. Plus it's a very financially reasonable upgrade. Wainscoting can be created with Trim-Tex Decorative L Bead or even with scraps of leftover bead.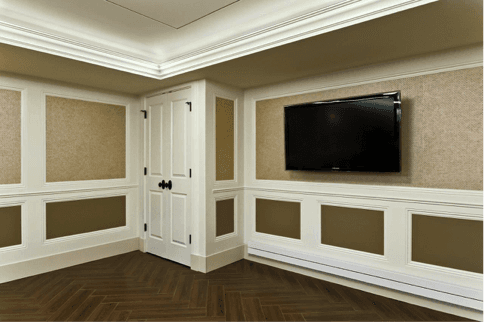 REVEALS
Both ceiling and wall reveals add interesting details to a basement. Taking the time to add ceiling reveals might seem like a minor detail, but they really stand out in big open areas, like a basement. Ceiling reveals can be used to accent lights or highlight a portion of the basement. In addition, wall reveals can also be installed to create a focal point of the room. Wall Reveals work well to highlight a bar or TV area.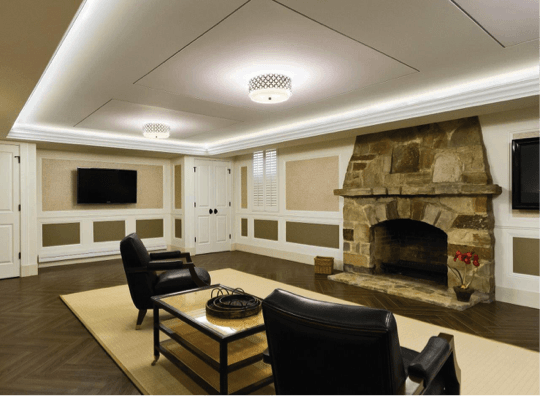 built-in shelves & niches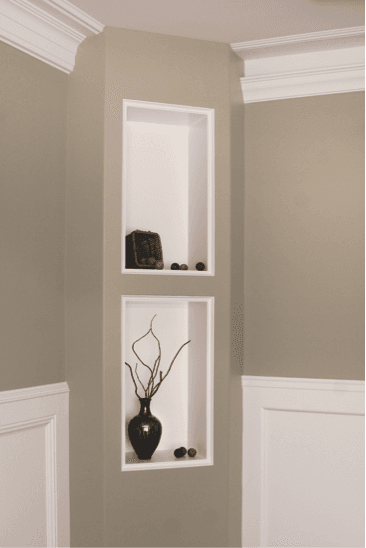 Built-in bookshelves and niches are a perfect basement drywall upgrade. Not only are they easy to create, but they also add essential basement storage. Vinyl corner bead is the ideal choice for creating built-ins because the bead easily bends to fix any shape. In contrast, metal bead would require much snipping to fit the curve and would not result in a nice, smooth finished edge.
These few details add up to create a one-of-a-kind basement. Most people don't even consider spending the time or energy making a basement feel like home, which is why offering affordable upgrades can be a big hit. Remember, stay another day and make more pay.