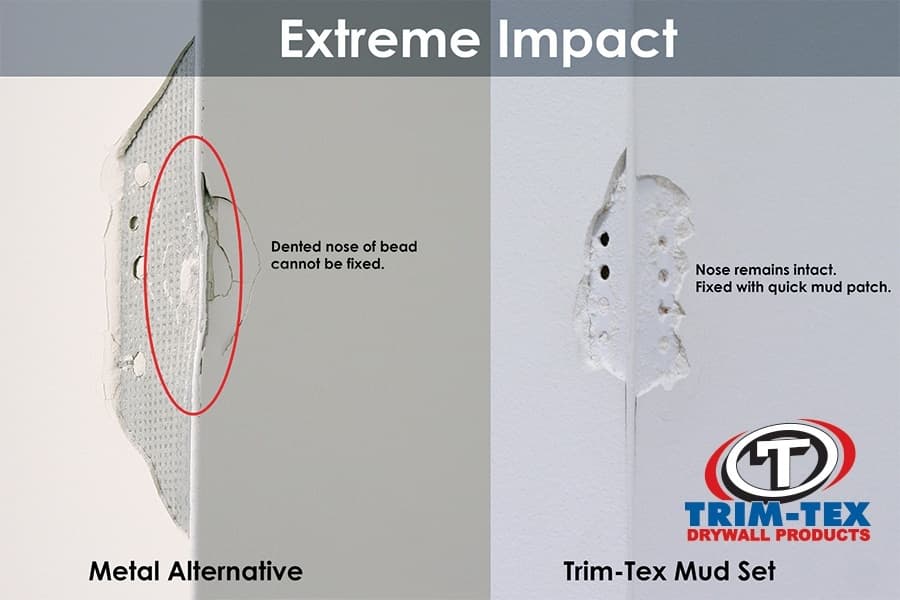 Thump-thud. It's move-in day again. New residents ram their bookcases, tables, and ironing boards into the walls, leaving potentially expensive damage. Trim-Tex bead can help absorb the blow.

Multi-family buildings have specific needs when it comes to selecting building materials. Buildings such as condos and apartments must weather heavy wear and tear. Trusted in buildings such as the JW Marriott Mall of America, Trim-Tex beads are designed to keep interiors looking like new and maintenance costs low.

Traditionally, corner bead is made of metal and paper. These corner beads are not designed to withstand impact. Any damage from an impact affects not just the surface of the wall, but the nose of the bead. When the nose of the bead becomes dented, the bead needs to be replaced or will forever remain an unsightly disfiguration. Vinyl corner bead by Trim-Tex aims to eliminate this problem. Because of the elastic properties of rigid vinyl, the nose of a Trim-Tex bead is able to retain its original shape even after impact. In the case of an extreme impact, mud may blow off the wall but that is an inexpensive patch versus replacing the corner bead.
There is no reason to have ugly, dented corners anymore. Keep interiors looking as good as the day the drywall wall was finished by using vinyl Trim-Tex corner beads. Not only do Trim-Tex vinyl beads keep corners looking like new, Trim-Tex corner bead can add a whole new look to a room. Trim-Tex offers 11 unique corner beads that are ideal for adding millwork quality details at a fraction of the cost. The decorative varieties of the Trim-Tex bead perform in both form and function. For example, Bullnose Bead, which provides a rounded corner, is extremely easy to dent and ruin when made of metal. However, Trim-Tex's vinyl Bullnose Bead can take a hit and maintain both its shape and beauty. With modern styles such as Chamfer and more decorative beads such as Step A Bull, there's a corner bead to match the style of any space. 
PROBLEM SOLVING SOLUTIONS
Many of Trim-Tex product solutions are developed around problems that general contractors come to us with. Shower Bead and Deflection bead are two great examples. The bathroom can be a problem area for drywall. Using paper tape around showers and bathtubs provides a source for mold growth. Mold poses a health hazard to occupants, and maintenance is often expensive and labor-intensive. Trim-Tex Shower Bead was developed to eliminate the need for paper tape around shower and tub enclosures. Additionally, the bead features a tear off masking strip that protects the shower surround from finishing compound and paint saving contractors time and money.

Deflection Bead is a newly designed product that eliminates the problem of drywall cracking in multi-story buildings due to building movement. The bead is installed at the head of wall detail and features a flexible gasket. This gasket compresses and retracts as the building moves, protecting the drywall from cracking while retaining a clean inside corner. With over 200 drywall finishing product solutions Trim-Tex can help you tackle the challenges of multi-family interior finishing. Free samples of Trim-Tex products, including Deflection Bead are available through our website. Just simply add product samples to your shopping cart from product pages.