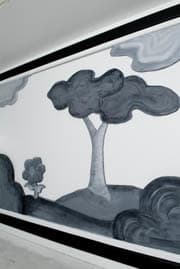 "It's not art, it's a science," he said.
Cory Merryman, of Merryman Drywall, in Morley, Mich., believes he has found his niche in what he calls "drywall art," fusing his finishing skills and aesthetic sensibilities to create dimensional landscapes. Whether this is art is individual opinion but what most would agree on is a good level of vision and detail have been put into his final product. Merryman creates his own patterns, illustrating them on notebook paper and projecting these designs onto the wall using standard drywall and accessories. His experimentation began in his own house.
Each corner of the house is bullnose cornerbead. Working for Kohler Drywall, of Grand Rapids, Mich., introduced Merryman to Trim-Tex and he has experimented with a portion of the company's line ever since...
Thinking in a creative way about his drywall art, Merryman has incorporated additional objects in his creations. "In my last house, I used real leaves and vines I picked myself but found they were too rigid and they proved difficult to apply. I learned from this and the next time I went to Wal Mart and bought some inexpensive bouquets of leaves from their crafts section. In picking my leaves I was pretty much just looking for something flimsy that I knew would hold well in the mud. I snipped the leaves from the bouquet with my tin snips and was ready for texture."
intrigued?
Read the full article in Walls and Ceilings's feature piece Drywall Art: Creative Layers and Textures.